How to manage salaries seems to be a topic of discussion in every company. Therefore there are several ways to do them, but they all seem to have notorious highs and lows.
Before we start talking about our experience with salaries we need to understand how we work.
We are a small company were  bosses don't exists. This means that there is no hierarchy, just horizontal  organization. We take advantage of this and we try include everyone in all the main decisions, discuss the main issues as a group.
Every person in Cavepot has access to all the information, like bills, salaries, goals, and projects. This methodology is used  for everything, specially when we have to decide in what kind of projects we will take and so on.
We strongly believe on transparency and trust. This are the most important values on our company.
For us Fridays are sacred!! We prepare a  delicious breakfast each Friday and use this space to talk about anything that we think is important. We can talk about sports or any kind of small talk, but we also discuss subjects that impact not only the company but every person on it.
Most common topics are current new projects, new ideas, technologies that we want to learn. But also we talk about us. Its an open space!! We can bring up  personal experiences, or situations that we are living. The idea is that it becomes a safe space for everyone to talk and feel integrated. Bringing  personal things to the table sometimes helps turn the working environment a better place.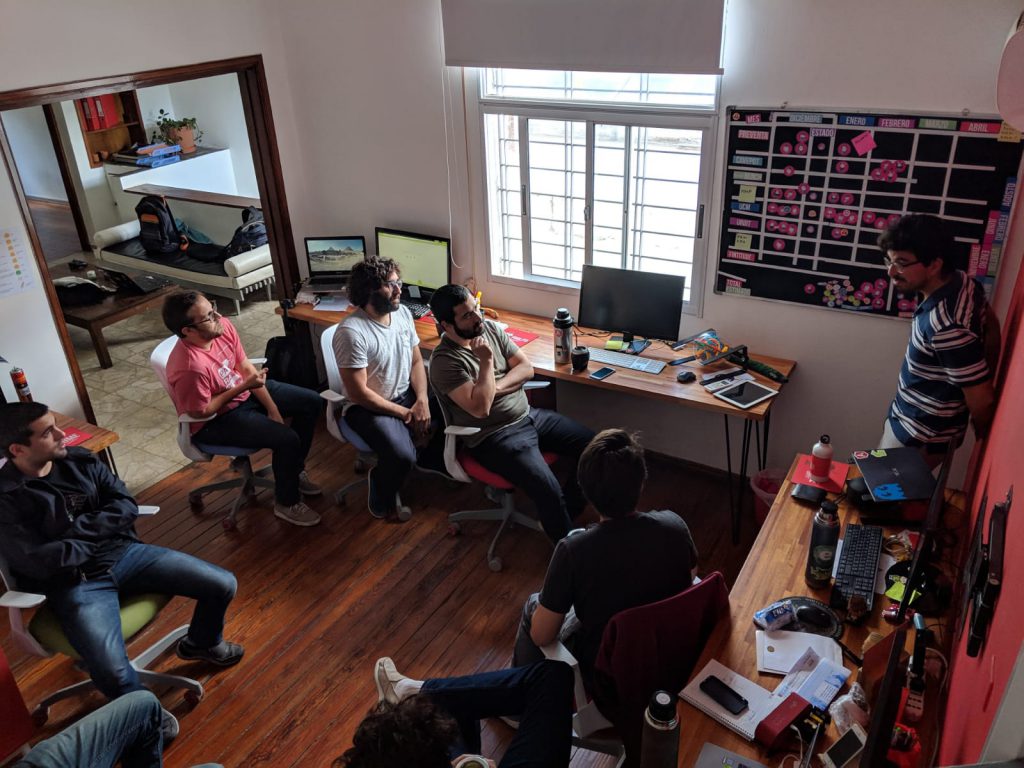 Now we know more about of Cavepot works,  let's talk about what we do with our salaries!!
Most recent Fridays we started talking about salaries because we believed that our salaries were below the average. At this point we detected that we had to do something about that.
We didn't know what was the right way to work on this, or even worst, we didn't know if there was a way to manage salaries.  Therefore we decided carry out an experiment and see what happend.
First of all we decided that each person on the company should think about the salary they deserved. We created a shared document to start working on that.


In my case I researched the market because I didn't have clear idea about standard salaries. Based on that, I decided to put a minimum and a maximum.
When everyone found a number we scheduled a Friday to discuss it and see how Cavepot could helps reach the salaries and set a goal.
With that goal in mind everyone in the company was extremely motivated  and exited, now all  we had to do was to create a plan to achieve that goal.
That helped us a lot to visualize where we were standing, and how far off we were. Numbers and estimations where made and luckily we could come up with a number that suited us all! Of course there where some instances to discuss the numbers involved, but it was great to see that everyone was focused on the company and in the number they thought was fair for them.
"We realized that this was working was because we all really knew the company's objectives, goals and values"
After we had all the numbers we could see how far we were from achieving the expected salaries that every one stated.
First thing we identified was that the company needed to find new long term projects with according rates. With that in mind we began to focus on sales and everyone tried to be involved in different places.
Our main goal was to have a year long plan.  We looked at the projects that we had  for a while, the most recent ones and  the leads. Once we had them mall on the table we looked at the numbers again to see if our choices  were in line with our new goals.
An interesting thing was that everyone at the company wanted to help out in the sales area, not only because of their  personal salaries but because that meant that the company could grow and that each one could work in areas that never worked before. This was a big step for us, we always wanted everyone to feel part of the family being involved in all the decisions that are made, and this seemed to be working.
We identified that we had to improve our skills in some of the new technologies that we were not focused on. With that in mind we talked about it and decided to start doing internal workshops to be more prepared.
At this point we noticed that this sort of things were necessary on every company because  it encourages everyone to improve themselves. Being able to identify what technologies we needed to focus on was not an easy task.  So we decided to open it up to personal expectations and desires. So, If there was anyone interested in a specific technology, we facilitated the tools for them to learn and improve their skills on it.
We wanted to highlight this point because one of our values is "vikings first" so we are not going to do something if the market seems to be in need of but no one wants to do it.
The other main thing that we identified was that we had to do a better use of all the social media channels. We have vikings that know a lot  about how to use those tools and want to  share their knowledge so they are planning a workshop to show us what we can do, and open the tasks so anyone interested could chip in.
Right now we have achieve our first goal, we  have  improved all the salaries. However we are still discussing and discovering different ways to reach our main goals in a sustainable way.
We really believe that we are building our vikings paths as we are building our company. With that in mind we are building our own careers path named "Road to Valhala" which is an ongoing process that we will share in future blogs.
Want to know more about us?